MOSER Animalline world
Extraordinary product ideas, future-oriented technology and first-class quality "Made in Germany" define the brand MOSER Animalline. We are not only the leading European manufacturer of animal hair clippers, but also a very personal partner for the extensive home pet grooming.

A healthy coat contributes significantly to the health of the animal in dogs, as well as in cats. And as owner, you can do a lot to support your darling. Pet owners all over the world rely on the MOSER Animal brand, because they know that nothing will pull the fur, the clip is safe to handle and MOSER has a smooth solution for every application and type of coat.

MOSER Animal sets new standards in innovative, professional grooming equipment for home grooming.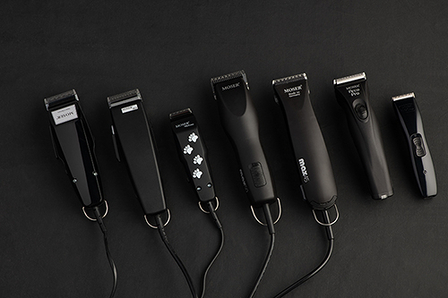 MOSER Animalline – the brand
MOSER® is a trademark of WAHL GmbH and, as a traditional Black Forest company, has been producing hair clipping machines for over 70 years, drawing on a wealth of experience. Over 250 employees and employees allow their special expertise, skills and passion to be incorporated into the products at St. Georgen. Thereby we achieve an outstanding quality and a significant customer confidence. We are very proud of both achievements.
WAHL GmbH is one of the mainstays of the affiliate company Wahl Clipper Corporation (USA) and is the specialist for hair clippers, animal hair clippers and other beauty products. Under the brand name Wahl in the animal sector, devices for professional dog hairdressers as well as for veterinarians are produced. In addition, WAHL manufactures shearing machines for large animals such as horses, cows and sheep.
www.wahl-horse.shop
In St. Georgen, Mosonmagyaróvár (Hungary) and in the headquarters of Wahl Clipper Corporation, Sterling / IL (USA), the products of our brands WAHL, MOSER and ermila are developed and produced.
100 years of WAHL
Exactly a century ago, Leo J. Wahl invented the first electric hair clipper. Today, Wahl is the global market leader in the field of professional hair clippers and enjoys the highest reputation among pet owners, dog hairdressers, veterinarians as well as hairdressers and barbers.
Our claim
Extraordinary product ideas, future-oriented technology and first-class quality "Made in Germany" define the brand MOSER®.
As a leading European manufacturer of hair and pet hair clippers, the traditional brand MOSER® belongs to the group of companies Clipper Corporation USA, the world market leader for high-performance hair and animal clipping machines. For more than half a century, MOSER® has set standards in innovative, professional animal hair clippers. At the company location St. Georgen in the Black Forest state-of-the-art development and production capacities are available. MOSER® animal hair clippers and of course the precision cutting sets are "Made in Germany" and are developed, manufactured in St. Georgen and sold worldwide. This know-how makes every MOSER® animal hair trimmer a reliable companion in everyday life.
We are Brand of the Year!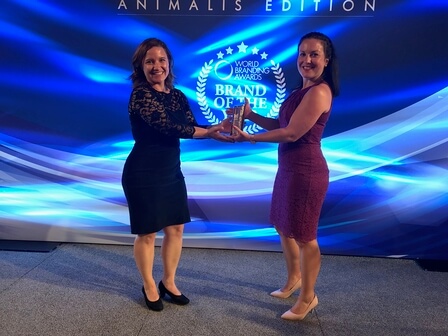 For the second time in a row, we are the "Brand of the Year" in the Animals category Grooming Products & Trimmers Germany.

Thank you dear customers, partners and fans, you have chosen us from more than 1000 brands as your number one.

- and that for the second time


In total, 95 000 pet owners have chosen their best brands in different categories.
The award was organized by the World Branding Forum, a global non-profit organization committed to improving brand standards for both branded and consumer goods.

Here you can find more information about the Brand of the Year Award.


About the World Branding Forum

The World Branding Forum (WBF) is a global, non-profit organization committed to improving branding standards for both branded and consumer goods. This includes those working in branding, marketing, advertising, public relations and communications worldwide.
The WBF produces, organizes and supports a wide range of programs in the areas of market research, development, education, brand awareness, networks and contacts. More information on
www.brandingforum.org
About the World Branding Awards
The World Branding Awards are the highest honor of the World Branding Forum. The award recognizes the achievements of some of the best brands in the world. The winners will be selected according to brand rating, consumer market research and public online voting.
Visit
www.awards.brandingforum.org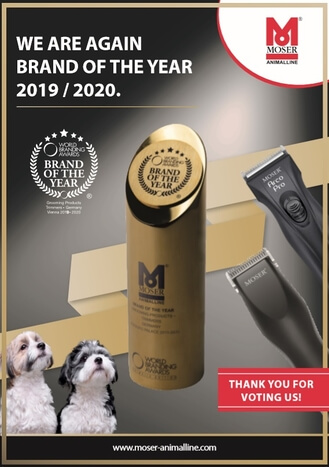 Innovation leader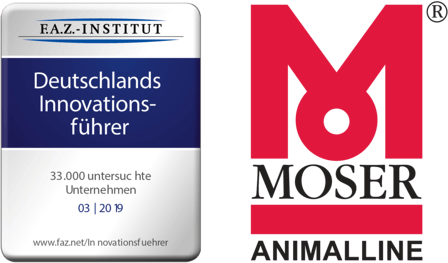 WAHL GmbH, the company behind the MOSER Animalline brand, has been awarded as one of Germany's innovation leaders in 2019 by F.A.Z. Institute of Management and Market Information. This success is mainly due to the modern technologies, distinctive functionality, ergonomics, future-oriented product design, highest performance and the first-class quality standard. The heart of every hair clipper are the precision-ground Blade sets.
This certificate confirms numerous other awards and distinctions of our products or this innovation award. Ultimately, what counts for us are the trust of our loyal customers, who have recognized that we create products specifically for their needs, constantly optimize them technically and contribute to the well-being of pets with every innovation "adds Jörg Burger, one of the company's two directors beside Stephen Gunson.
Here you can find more information about the
Award as innovation leader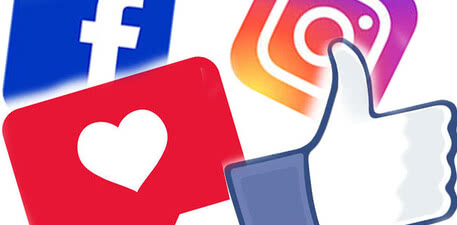 MOSER Animalline SOCIAL
There's a lot going on on our social media channels!
Check it out, follow us and let yourself be inspired!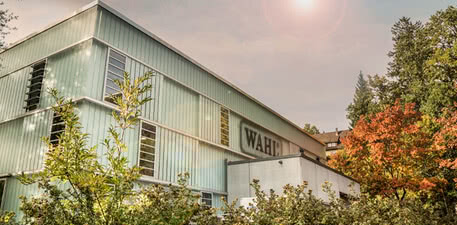 Made in Germany
All MOSER Animalline Clippers are produced in Germany
MOSER helps
We cannot change the world, but we can do our part to make it better. That is why we are committed!