Tutorials
Shearing Tutorials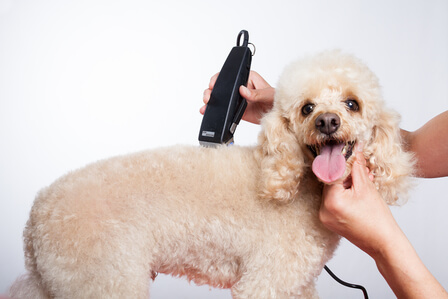 MOSER Animalline, yourpartner for fur care at home

In our application videos we show you, based on different breeds, how grooming is implemented.


We have made instruction videos on the topic: "How do I shear my dog" and would like to give you many helpful tips.
With these detailed instructions, shearing at home should really no longer be a problem and your pet will also feel very comfortable with it.

We hope you enjoy shearing!




EPISODE 01 | WATER DOG MIX PAULA
In the first episode, it's Water Dog Mix Paula's turn. We sue scissors, comb and Trimmer and conjure up a great summer hairstyle for the water dog lady. Each step will be explains exactly and we give you valuable tips so that you can manage the clipping at home just as well. In this video we use articles from our grooming accessory product line as well as the Timmer MOSER Arco in a limited edition (MOSER ARCO Apple Green). With our instructions nothing should go wrong!

Let's take the combs & clippers! LET'S GO!
EPISODE 02 | LABRADOODLE MAX
In this episode of the "Grooming like a pro - with MOSER" series, Labradoodle Max gets a new haircut. The charming Labradoodle male Max, gets a cute teddy bear cut. And best of all, you can simply trim this style. Valuable tips from everyday grooming included. Articles from our MOSER Animalline grooming accessory product line as well as the clipper MOSER MAX 50 are used in this video. With our instructions, nothing should go wrong with dog shears.
EPISODE 03 | DECLARATION OF THE HAIR CARE ACCESSORIES
In the third episode of "Groom like a pro - with MOSER" it's all about different fur care tools. What is a plucking brush and what is the purpose of a disentangler?
Which brushes do I need for which dog? These questions are answered by our expert for grooming and dog styling.
EPISODE 04 | POODLE SANDY
In the fourth episode of grooming like a pro, the cute poodle lady Sandy gets "fined". Various grooming tools, animal hair clippers are used and in a simple step-by-step instruction, we explain what to look out for while clipping at home. The fourth episode is the most comprehensive so far and covers not only the normal full line of the poodle, but also the claw care and many other important aspects of grooming. That's how a poodle is shaved optimally! Have fun while copying.