MOSER Animalline Clippers for animal shelters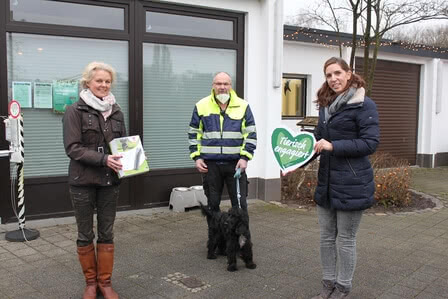 Generous donation: Wahl GmbH and Fressnapf provide 250 animal shelters in Germany with clippers worth 30,000 euros
Grooming dogs and cats is common practice for pet owners and, in addition to keeping them healthy, it strengthens the bond between humans and animals. But not all pets in Germany are doing so well. Unfortunately, animal shelters and animal welfare organisations in Germany often take in neglected and uncared animals. Besides and in addition to medical treatment, hygienic care of the "distressed" animals is then urgently needed. Therefore, the company Wahl GmbH from St. Georgen in Baden-Württemberg has supported the Fressnapf initiative "Tierisch engagiert" with professional clippers worth around 30,000 EUR. "We are very pleased to be able to support the animal shelters in their impressive work," says Veronika Kröger, Sales Manager Animal Central Europe at Wahl. "In total, we are talking about 350 machines, which have been given a general overhaul by our experts and fitted with new batteries before delivery."
The professional clippers support the animal shelters such as the Krefeld Animal Shelter in grooming their animals - regardless of the season. for use
In addition to the Krefeld animal shelter, a total of 250 animal shelters and animal welfare associations in Germany are supplied with the clippers. The procurement is carried out in close cooperation with the German Animal Welfare Association (Deutscher Tierschutzbund e.V.).
"The donation from Wahl GmbH is extremely generous and proves once again that animal shelters can be helped not only through donations of money and food. Fur care also plays a decisive role in the professional care and hopefully later successful placement of the animals," Claudia Bethke from the Fressnapf initiative "Tierisch engagiert." thanks. More information is also available at
www.tierisch-engagiert.de
Guide for the optimal coat care of pets

With the right coat care for your dog, you can detect pathological changes early on and avoid matting of the coat. Daily combing or brushing of the coat, especially after a walk through woods and meadows, makes parasites such as ticks and fleas visible so that they can be picked off immediately. In this way, you nip a later flea invasion or a disease-causing tick infestation in the bud.
Whether it's a fluffy Angora cat or a smooth Siamese: the coat must be groomed at all times. As a rule, the cat does this itself. It spends a large part of the day grooming itself with its tongue and paws and getting its coat in order. For animals with very long coats due to their breed, you as the owner cannot avoid assistance tasks. But breeds with short coats are also happy about massage and grooming sessions. Grooming also has tangible benefits: Parasites are too restless in a well-groomed coat and you can detect skin changes or inflammations at an early stage.